Responsible investing
Drive Positive Change
Today's investment decisions shape tomorrow
Our vision in Responsible Investment
Together with our clients, asset managers can help create a more sustainable world.
As trusted guardians, we allocate capital and engage with holdings to encourage sustainable behaviour, helping our clients achieve their sustainability goals and fight against climate change.
The global shift towards sustainable investing means more opportunities.
We see a multi-decade investment opportunity where new technologies, business models, investment products, alongside ESG integration, will facilitate both wealth creation and sustainable outcomes in the long term.
The net-zero transition will give rise to new, valuable asset classes.
Natural, human and social capital are the world's most precious resources. We support their development into investible asset classes with the aim of directing capital towards the UN Sustainable Development Goals.
Sustainable investing is embedded into our fiduciary duty.
We invest with purpose and discipline. Our approach incorporates valuation and materiality frameworks, constantly striving to improve risk-adjusted returns whilst integrating sustainability across the platform.
A sustainable world is fair and inclusive.
We are committed to helping our stakeholders prosper – our clients, shareholders, employees and the societies which we operate in, developing countries in particular. No one should be left behind in a just transition.
Engagement and stewardship are powerful tools of change.
We hope to offer the best to our future generations by promoting positive behaviour throughout invested companies and advocating for a more sustainable financial system in collaboration with the industry.
Why HSBC Asset Management?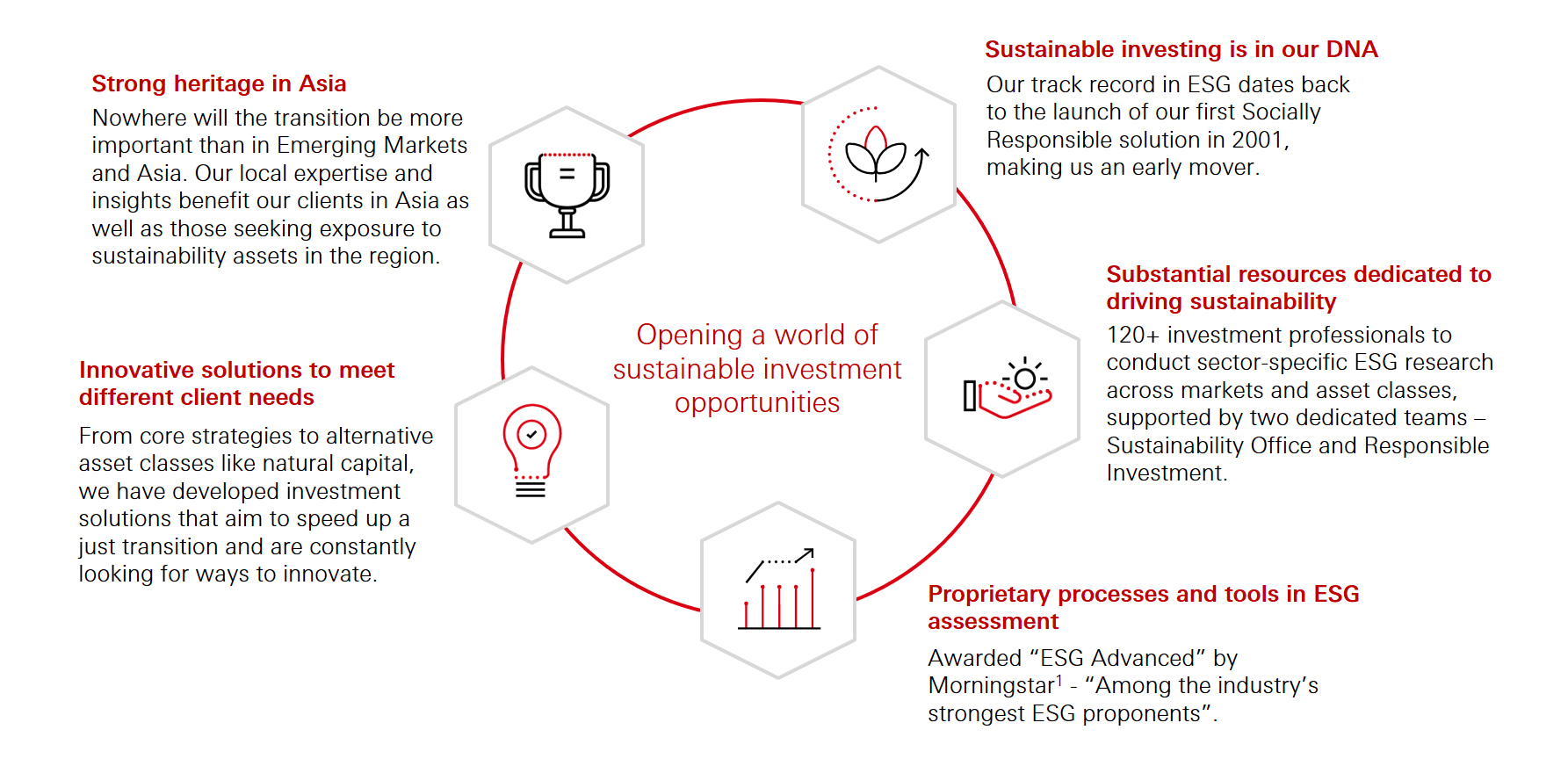 Sources: Morningstar, HSBC Asset Management. For illustrative purposes only.
1. Out of 94 asset managers assessed by Morningstar, only 17 earned a Morningstar ESG Commitment Level of Advanced in 2022.
© Copyright 2023 Morningstar. All Rights Reserved. The information contained herein: (1) is proprietary to Morningstar and/or its content providers; (2) may not be copied or distributed; and (3) is not warranted to be accurate, complete or timely. Neither Morningstar nor its content providers are responsible for any damages or losses arising from any use of this information.
Our key focus areas
Stewardship is a powerful tool for change. It plays an important role in enhancing investment returns as well as supporting sustainable objectives. We prioritise engagement over divestment in order to influence issuers and companies that we invest in.
Find out more on our Stewardshipapproach and engagement priorities.
We are committed to playing an active and constructive role in supporting the development of a well-functioning and more sustainable financial system. This includes engaging with regulators and policymakers directly and through our participation in industry bodies.
Find out more on our involvement in Industry Initiativesand networks.
The value of investments and any income from them can go down as well as up and investors may not get back the amount originally invested. The value of the underlying assets is strongly affected by interest rate fluctuations and by changes in the credit ratings of the underlying issuer of the assets.